Do you have a concept, idea or project that is developed and/or physically located in the EU falling under the New European Bauhaus? If so, make sure to apply to the New European Bauhaus prizes 2022 and claim up to € 30,000 in European funding. The prizes for this year are open from 18 January to celebrate inspiring transformational examples for our daily lives, living spaces and experiences.
Apply to be one of the finalists for this award! Applications close 28 February 2022 at 19:00 CET.
What is the New European Bauhaus?
The New European Bauhaus is a creative, interdisciplinary initiative connecting the European Green Deal to our living spaces and experiences. It aims to combine design, sustainability, accessibility, affordability, and investments to help achieve the European Green Deal in Europe.
It was launched in 2020 by the President of the European Commission during the 2020 state of the Union address. The initiative moved from the co-design to delivery phase in 2021 by setting out policy actions and rolling out European funding.
"The New European Bauhaus is a project of hope to explore how we live better together after the pandemic. It is about matching sustainability with style, to bring the European Green Deal closer to people's minds and homes. We need all creative minds: designers, artists, scientists, architects and citizens, to make the New European Bauhaus a success." - European Commission President, Ursula von der Leyen
New European Bauhaus Prizes and Categories in 2022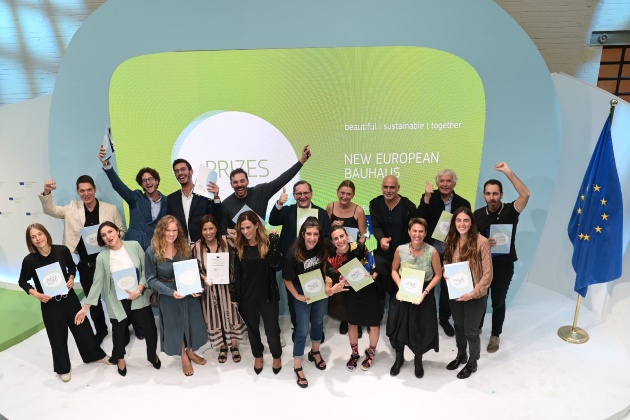 The competition will award both existing beautiful, sustainable, and inclusive projects but also concepts and ideas of the up-and-coming new generation.
There are 4 different categories for prizes reflecting the transformational themes identified in the co-design phrase of the New European Bauhaus.
Reconnecting with nature,
Regaining a sense of belonging,
Prioritizing the places and people that need it the most,
Shaping a circular industrial ecosystem and supporting life-cycle thing.
In addition, each category will be divided in two competition strands that work in parallel:
New European Bauhaus Awards for already existing projects
New European Bauhaus Rising Stars for ideas submitted by young people under 30
As far as the New European Bauhaus prizes are concerned, all winners and runner ups will receive a prize award along with a communication package. However, there are some differences between these two strands. Award money will be double for winners and runner ups who have submitted an existing project to the New European Bauhaus Awards compared to the "Rising Stars" category. Namely, winners will receive € 30,000 and € 15,000 respectively, whereas runner ups € 20,000 and € 10,000.
Are you ready to apply?

Don't lose the opportunity to receive a reward for your sustainable projects or ideas, as well as recognition for your important work.
You can find more New European Bauhaus calls for EU funding on EUcalls.