EUcalls.net. The best networking platform of European Calls
With EUcalls.net, we aim to make things easy, in terms of finding European calls that interest you. We also help you find the right partners to build your consortium.
What is different!
We have given EUcalls.net a new and innovative interface. By creating your free account, you get to discover the new, amazing features that allow you to search for all the latest European calls. Now you get to personalize your results focusing on the calls that interest you the most.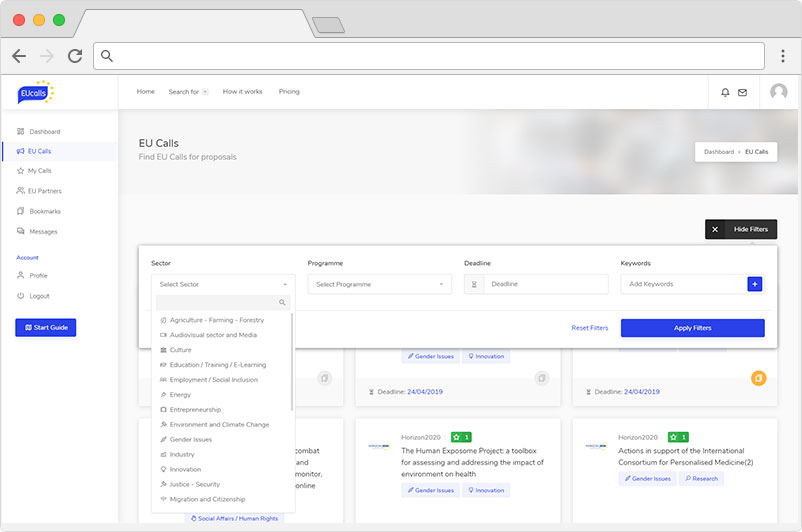 You can use the EUcalls.net filters to find the best calls for you and ''Declare your interest'', to create your own ''My Calls'' directory. This way you can track and monitor the calls that you are aiming!
If you are not ready to create your ''My Calls'' directory yet or if you are not sure which calls interest you the most, you have nothing to worry. The new EUcalls.net features allow you to ''Bookmark'' your choices and save them for later. That way you will be able to keep track of all your potential options and take your time to choose the ones to add to your list.
The bookmarks are linked to the profile account that you're currently logged in. Access them through your dashboard, at any time!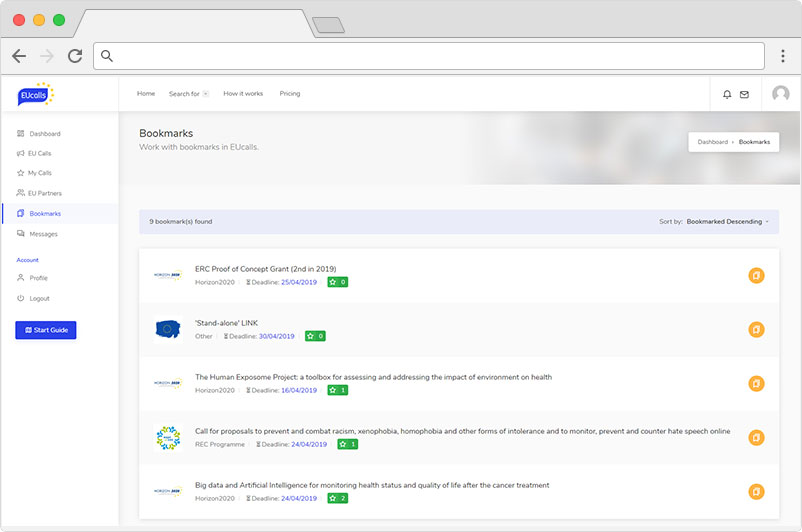 The EUcalls.net list of European Calls gets updated all the time. Organizations may declare interest in calls you are interested in or leave comments about them. The call information may change for time to time. You do not want to miss out on any of those updates.
With the new notification feature, you can stay updated all the time. Notifications provide convenience and extra value in your dashboard. To view your notifications, sign in first. Sneak a peek on how it looks likes in your dashboard.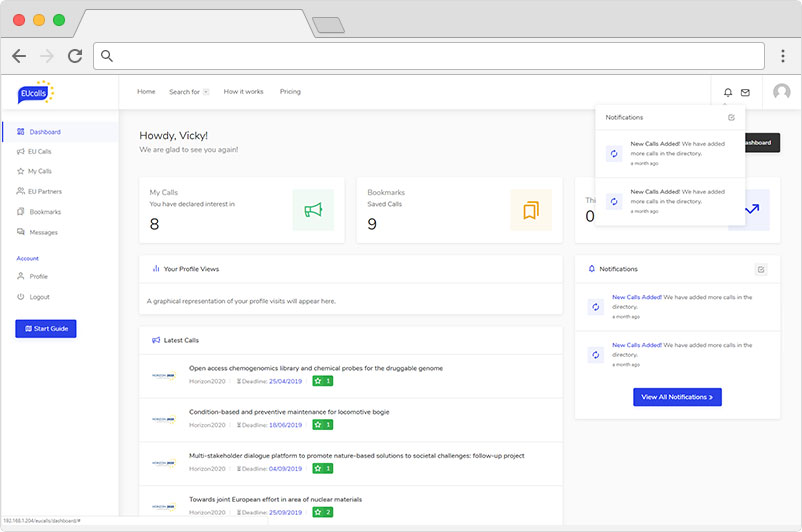 Find your next partner. Expand your network
One of the most important things regarding the implementation of an EU project is the consortium. The project partners need to be ready to bring their expertise on the table, and together they can work on the project and complete it with total success.
Each European project is different though. So it is always a good idea to have more options when it comes to your partner choices. In other words, you need an extensive network of partners to choose from.
The new eucalls.net provides you with a long list of possible EU partners to choose from. You can contact them today using the right keywords, view their profiles and send a direct message to them, proposing a collaboration for a European call that could interest you both.
Create your free EUcalls account profile today. Gain access to unlimited EU calls and find the right partners. Start building your network and partnerships and become an essential stakeholder in the field of EU projects!
For more features that will make your eucalls.net experience even better, find our premium package and get our paid version now!