The infiltration of digital technology in modern life has made us dependent on its undisturbed and continuous operation. Digital technology has enabled us to make our work more efficient, but also to achieve things that were once thought not possible.
However, digitalisation is an ongoing process, and EU funding can help make Europe more digital. The calls coming out from the Digital Europe financial programme are perfect to match this task. Let's find out more details about the Digital Europe Programme and the calls launched in 2022.
Digital Europe programme 2021-2027
The Digital Europe Programme (DIGITAL) is the new EU funding initiative aimed at delivering digital technology to enterprises, individuals, and government agencies.
Arguably, a vital challenge of our generation is to find ways to make the world greener and more digital. We are at an environmental tipping point, and the world needs to take bold actions now. Europe wants to lead the green, and digital transition and EU funding will play a critical role in that. Digital Europe funding for digital technologies research and the proliferation of digitalisation in society seems to provide solutions to both challenges.
However, it is the COVID-19 pandemic that made us realise how urgently we need not only more digital technology but also systems and solutions coming from Europe. As such, it will limit our dependence on other regions of the world, thus making Europe technologically self-reliant and safer.
With an overall budget of €7.5 billion, it intends to speed the economic recovery and influence Europe's digital transformation of society and economy, benefiting everyone, especially small and medium-sized businesses.
Digital Europe programme will try to provide solutions to the above challenges by focusing on these five key areas:
High-performance computing,
Cybersecurity,
Cloud, data and ai,
Best use of digital technologies
Advanced digital skills.
€292 million worth of Digital Europe programme calls in 2022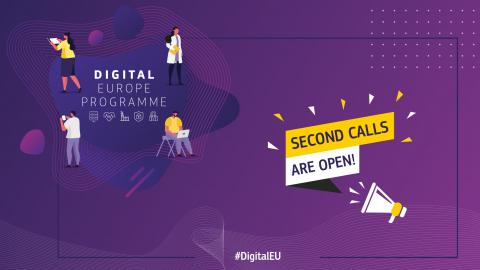 The Commission has announced the second round of calls for proposals under the Digital Europe Programme after adopting work programmes and the first round of calls in November 2021.
The calls are accessible to corporations, organisations, public administrations from the EU Member States, EFTA/EEA nations, and other countries affiliated with the Program.
This funding will see an investment of more than €249 million in various areas. They include data centres, European blockchain infrastructure, advanced digital skills training, digital solutions for better government services, projects piloting the use of artificial intelligence (AI) to combat crime and AI testing facilities. These facilities will put artificial intelligence to the test in manufacturing, food, health, and smart communities.
Furthermore, EU grants of €43 million will boost cybersecurity in the health sector and establish a network of centres to assist Member States in implementing EU cybersecurity legislation.
The deadline for this second round of Digital Europe programme calls is 17 May 2022.
17 calls from the Digital Europe programme to find on our platform
In keeping our promise for an always updated database with all existing calls from all programmes, have a look at this second round of open calls from the Digital Europe programme in 2022:
You should not forget that you can declare your interest if you are interested in one of the above DIGITAL calls. By doing so, your organisation will become visible to the rest of the EUcalls community and will help you network and find reliable partners. You can also share your EU project idea on Idea Pad or find ideas for European projects from others.
Are you not an EUcalls member yet? You can sign up for free here.