The Next Generation EU (NGEU) fund is a European initiative to provide financial support to all member states to recover from the adverse effects of the COVID-19 pandemic. Despite all the negatives that this pandemic has brought, there is widespread optimism that the EU can emerge more robust than ever. The Next Generation EU will speed up the transition to the future.
Possessing the funds and the determination to make Europe a digital, sustainable and more resilient place, the EU has a significant opportunity to transform and become a role model to the world. This is good news for innovative businesses that are looking for European funding. Plenty of EU calls will be made available to submit a proposal to finance the development of innovative solutions.
What is the Next Generation EU Budget?
Next Generation EU is a commonly agreed recovery plan of €750 billion between EU member states. NGEU budget will work on top of the EU long-term budget of €1.074 trillion for the 2021-2027 multiannual financial framework. Specifically, this will be a COVID-19 dedicated recovery package channelled through the EU long-term budget between 2021 and 2023.
The 2021-2027 long-term EU budget, together with the Next Generation EU budget, amounts to an unprecedented €1.8 trillion of funding to support the COVID-19 recovery and the EU's long-term priorities across different policy areas.
The centrepiece of this is NGEU is the Recovery and Resilience Facility that will be responsible for providing €672.5 billion in loans and grants to support reforms and investments in each Member State.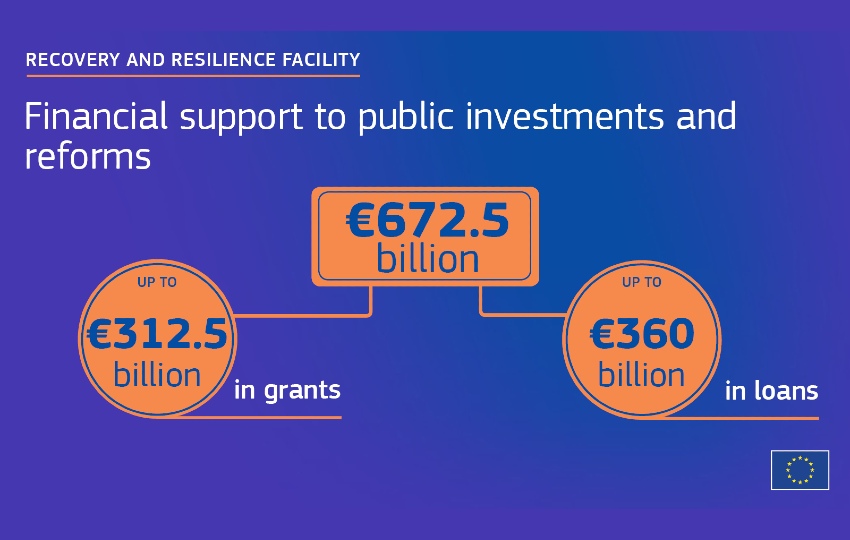 What Areas Will Benefit from NextGenerationEU
Next Generation EU got its name for being a future-oriented fund. In other words, NGEU will not only try to fix the consequences of the pandemic, but it will also make investments in the EU's long-term future.
For this reason, there are specific recognized EU priorities that Next Generation EU will focus on.
The European Green Deal – To combat climate action, NGEU's funding will introduce the circular economy in buildings and infrastructure, develop renewable energy projects, optimize transport and logistics, and strengthen the Just Transition Fund.
The European Single Market – With a particular focus on the single market's adaptation to the digital age, investments will be made in better connectivity like the 5G networks, cybersecurity, and new technologies.
The fair and inclusive recovery for all – NextGenerationEU will provide funding to fight European unemployment by focusing on developing EU citizens' digital skills to better adapt to the new digital landscape.
Stay Tuned in EUcalls for the Next Generation EU Opportunities
NGEU will be especially active between 2021-23, and there will be plenty of European funding opportunities. During these busy times, the best place for your EU funding needs is none other than EUcalls.
On EUcalls smart platform, you can find various open calls for proposals on EU funding for research, digital and green projects. Using EUcalls, you can easily submit your proposal, find interested partners to form a consortium, and receive European funding.
If you are interested in NGEU's field of focus, over 300 Horizon Europe calls for proposals are waiting for you to submit your proposal. Become a member of EUcalls for free to see all the available calls for EU funding.